Ladbrokes Coral Verisae Risk Management
As from 2nd November, contractors checking into reactive or planned jobs on Verisae will be asked to take some additional steps to confirm compliance with H&S processes before they can commence work.
These steps can be broken down into 3 stages, and all are captured in the attached guide: –
Step 1 – Agree to Site Rules
The engineer will be asked to read and understand our site rules, which can be viewed on verisae and requires them to tick 4 x statements of confirmation
Step 2 – View Asbestos Register
The engineer will be required to select 'View Site Hazards', which will present them with a link to the Asbestos Register. Once they've clicked on the link and entered their existing username and password, it will automatically take them to the relevant survey for the shop they are in. Once viewed, it will present them with 4 statements to confirm they are happy that the works pose no risk to asbestos in shop.
Step 3 – Identify Specific Risks
Finally, the engineer will be asked to identify whether the works they are about to undertake involve any of the three specific risks below: –
• Working at Height
• Live Electrical Works
• Hot Works
(The definition of these risks is presented to them for clarification)
If they identify one or more of these risks, Verisae will prompt them to answer a series of questions to confirm that they have considered the risk and have the appropriate measures and competence etc to carry out the task. If none of the risks are identified, they can simply confirm this and proceed.
The above steps will be mandatory, and cannot be circumvented."
Ladbrokes Coral – Verisae Risk Management
October 2020
Introduction
LadbrokesCoral are introducing a series of auditable and mandatory pre-site checks into the engineer login process in Verisae. These should be completed by all engineers who attend a LC site to carry out maintenance works.

There are three steps to complete prior to commencing works:-

1) Read and understand LC site rules
2) Check the Asbestos Register for the site
3) Confirm any specific risks involved in the activity



Step 1 – Site Rules

When logging into the job, engineer must select 'Add Permit'

The engineer will need to confirm acceptance of three initial statements by ticking each box, and tick the fourth to confirm they have read and understood the 'Contractor Rules' prior to start.
Contractor Rules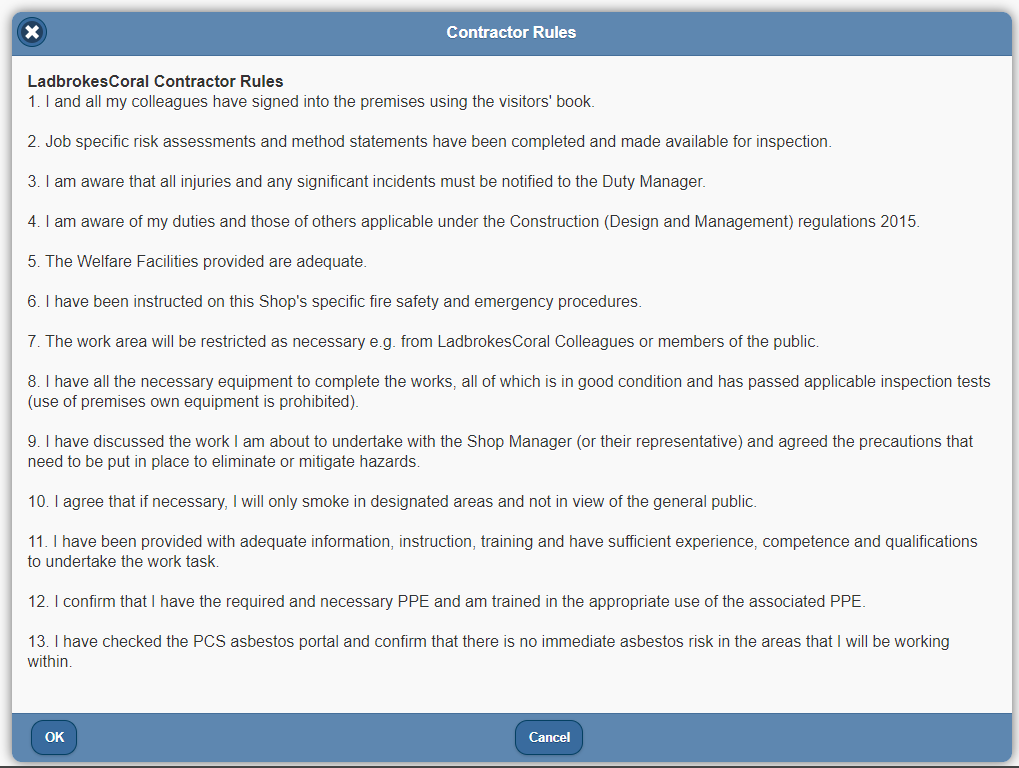 Step 2 – View Asbestos Portal

This process has now been integrated into the Verisae login journey. Click 'View Site Hazards.

A window will pop up containing a link to the Asbestos Register, held on the PCS Asbestos Portal.

The engineer will be required to click on the link and enter their PCS Username and Password. This will take them directly to the Asbestos Report for the shop they are in.
Once the register has been assessed, click 'I have read and understood'. A series of prompts will confirm that the engineer has assessed the register and is happy that no risk is present.

Step 3 – Specific Risk Assessments

The engineer will be asked to confirm if the works involve one of three specific risks (definitions included): –

• Hot Works
• Live Electrical Works
• Working at Height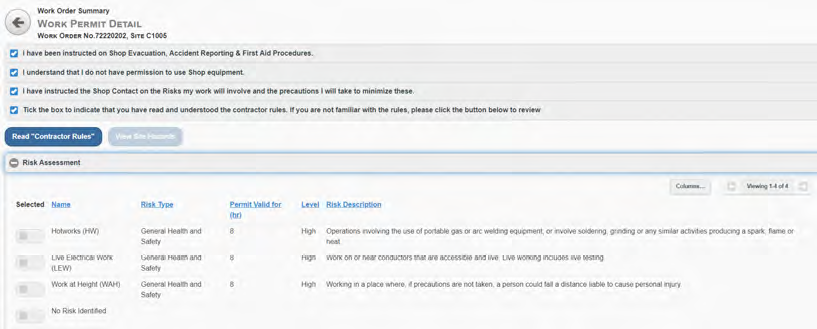 Once a risk is selected, a series of mandatory questions will be presented to the engineer. These must be answered before the system will allow the engineer to proceed with the works.
If none of these risks are present, select 'No Risk Identified'. Further comments can be added in the 'Risk Comments' box
Click 'Submit'



The Engineer Can Then "Start Work"

The identified risks will show under the 'Work Permit Detail' section. Minimise this, select 'Engineer Detail, and 'Start Work' as normal.